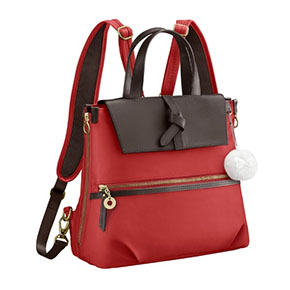 Small, 59692
18,000 yen (19,440 yen with tax)
W28 (42) x H26 x D14 cm
620 grams, 6 (7) liters
Accommodates A4 size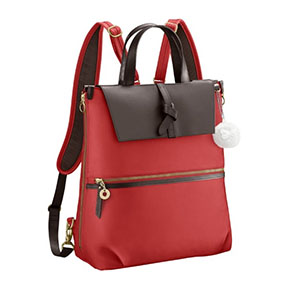 Large, 59693
20,000 yen (21,600 yen with tax)
W29 (46) x H35 x D15 cm
690 grams, 9 (11) liters
Accommodates A4 size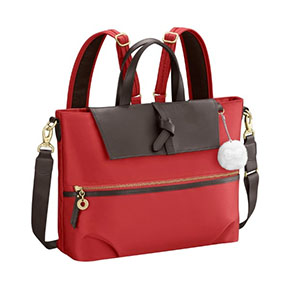 3-way, 59694
20,000 yen (21,600 yen with tax)
W37 x H28 x D13 cm
650 grams, 9 liters
Accommodates A4 size; 3-way (backpack/shoulder bag/tote bag); detachable shoulder-bag strap


The main compartment stores more than meets the eye.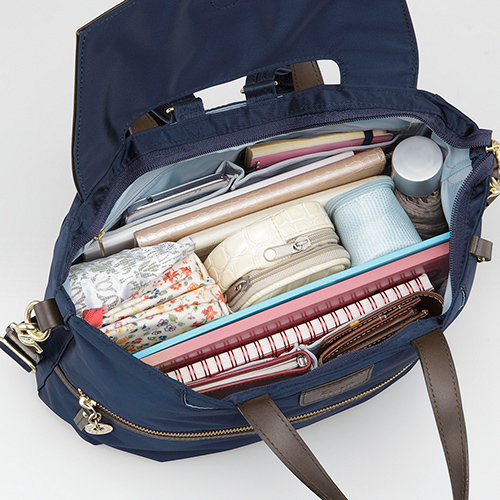 The handles go through a flap for added security. A snap button and magnet help the backpack to keep its neat form even when it's packed with things and carried on your back.

The front pocket has a special compartment for storing a commuter pass holder.

A pocket on the back is handy for keeping valuables. It also stores wide items.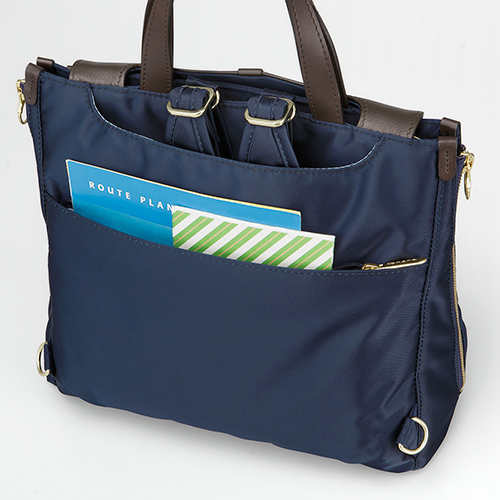 The open pocket right underneath the flap is handy for storing things you need quick access to, like a smartphone.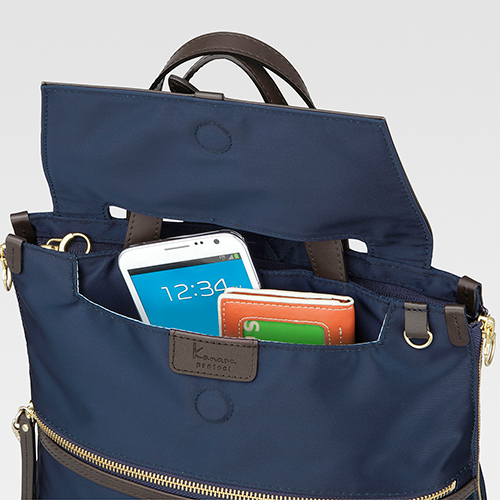 The backpack shoulder straps can be stored in the back.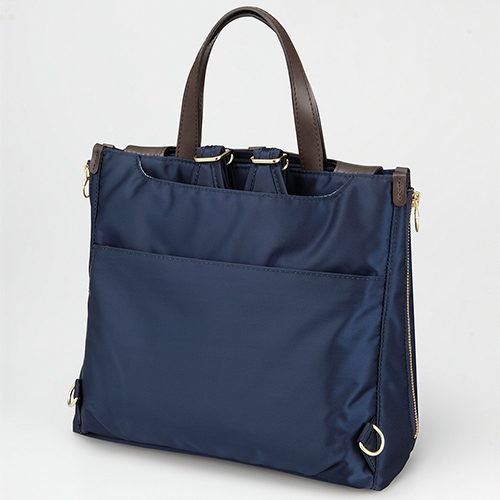 The front pocket's leather zipper strap and gold charm give the backpack an elegant, refined look.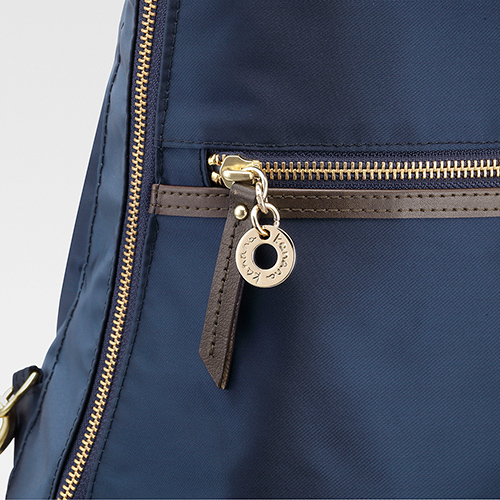 A smart-looking backpack.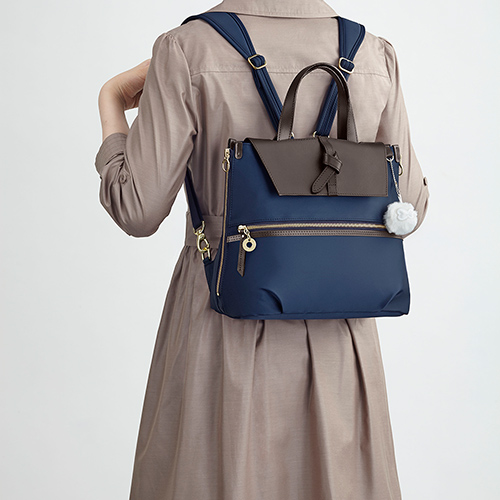 Open up the side zippers to use it as a tote bag.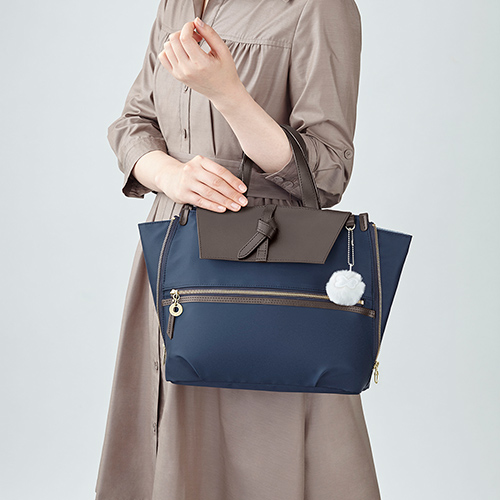 A4-size notebooks and folders can fit in a horizontal orientation in the 3-way model's main compartment. Other large items can also fit in easily thanks to abundant storage space.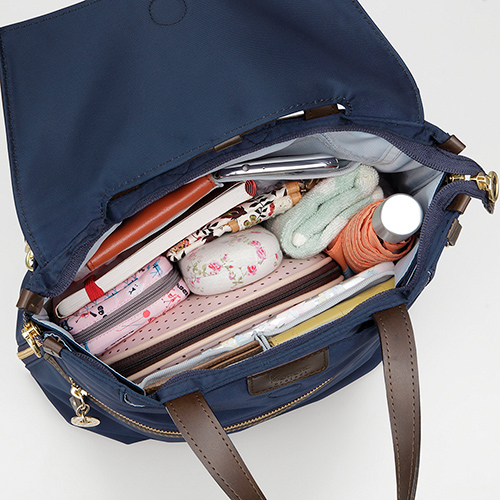 The 3-way model's tote-briefcase design makes it look great for business. The shoulder-bag strap is detachable.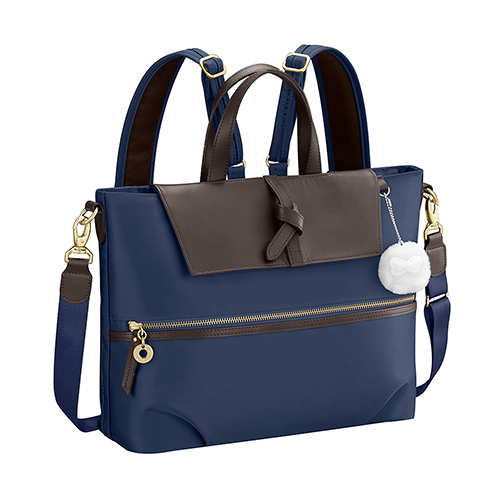 The backpack shoulder straps can be stored in the back for the 3-way model, too.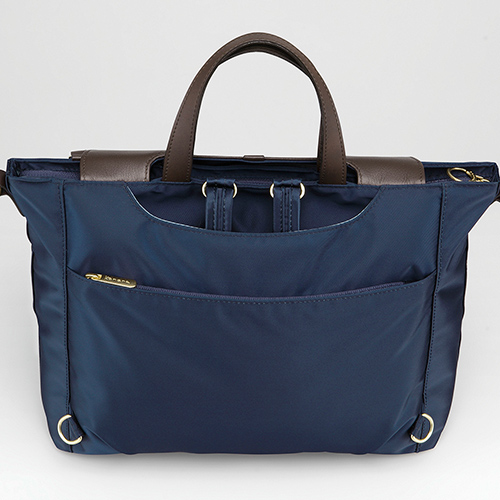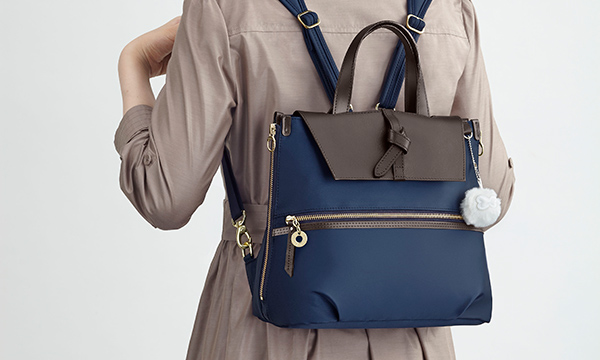 A simple design committed to elegance

These backpacks have been designed with a focus on simplicity and classiness, so that they can be used not only for everyday outings, but also on special occasions like parties. Their handbag-style design looks great with neat, refined attire.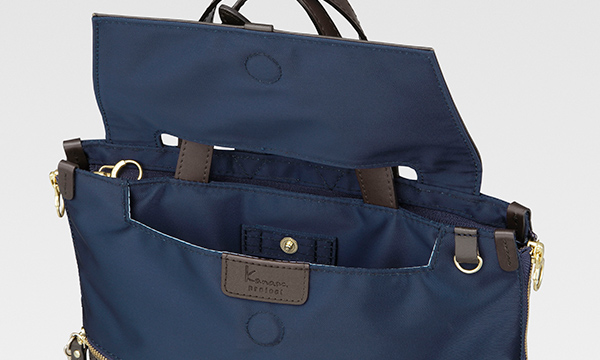 Elegant but fully functional

We gave these backpacks a full range of smart, convenient functions. For example, the handles go through the flap to enhance security, and the large front pocket gives easy access to small items and smartphones. We've also made the back pocket large to give the backpack more storage space than you'd imagine.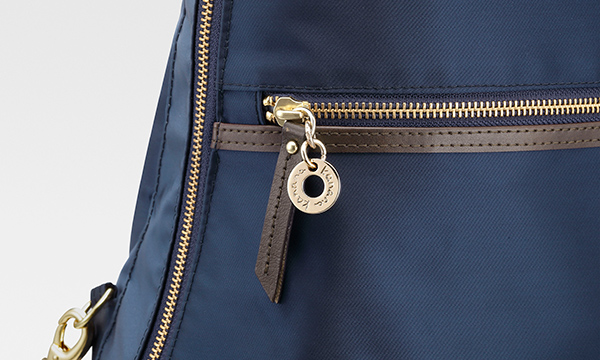 The elegance is in the details

The main material has a stylish sheen, and the shiny gold metal parts add a touch of class. The knot adorning the flap is modeled after a kimono obijime cord and gives the backpack its unique look. We've given full attention to the details so you can take your outings up a notch in style.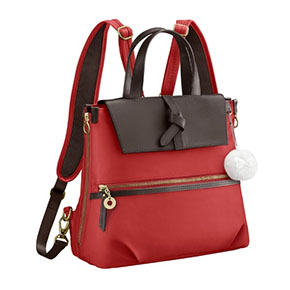 Small, 59692
18,000 yen (19,440 yen with tax)
W28 (42) x H26 x D14 cm
620 grams, 6 (7) liters
Accommodates A4 size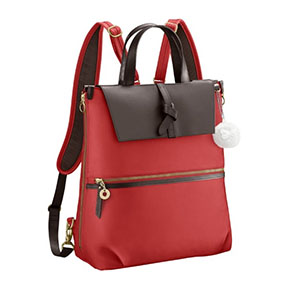 Large, 59693
20,000 yen (21,600 yen with tax)
W29 (46) x H35 x D15 cm
690 grams, 9 (11) liters
Accommodates A4 size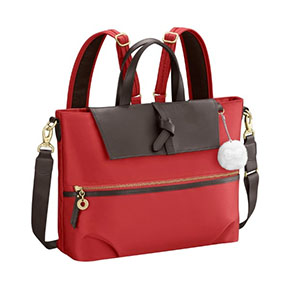 3-way, 59694
20,000 yen (21,600 yen with tax)
W37 x H28 x D13 cm
650 grams, 9 liters
Accommodates A4 size; 3-way (backpack/shoulder bag/tote bag); detachable shoulder-bag strap